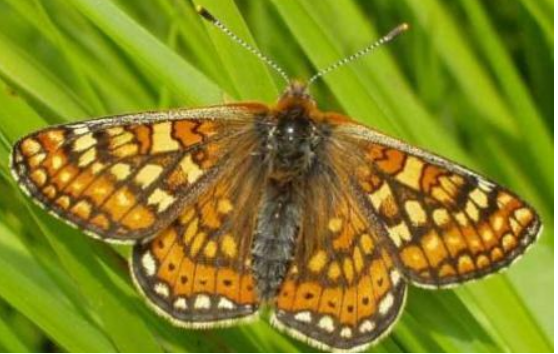 The Marsh Fritillary is one of the most rapidly declining butterflies in Europe. Knowing where the core populations are in Wales, how they are faring and making sure that sites are well managed are critical for the long term outlook of the butterfly.

Monitoring
Butterfly Conservation Wales (BCW) co-ordinates a Wales-wide programme of visits in which every population gets at least one survey visit every five years. Key questions address in the survey are:
on which sites are they present? (Population Status surveys)
how strong are our key populations? (Larval web Surveillance Programme)
As well as confirming presence or absence, these visits can also highlight concerns, such as management issues, that need following up. The Wales Marsh Fritillary Surveillance Programme was established in 2012 by BCW in partnership with Natural Resources Wales. Distribution surveys show that there are now 132 Marsh Fritillary populations in Wales.
2017 population trends
The 2017 sightings report a net gain of 2 populations with an addition of five populations and a 'loss' of three populations for the most recent five-year period (2013-2017).
Carmarthenshire remains the stronghold in wales with 41% of current populations. Worryingly, only 9% of Welsh populations are in north Wales largely due to unfavourable land management.
Future work
Work to develop the Marsh Fritillary surveillance network continues, the aim being to make it more representative of our Welsh populations, with the majority of the key populations included.
In 2017 work continued to finalise monitoring methodologies and standardise the data and plug gaps in network coverage..
information from surveys, surveillance and habitat mapping is allowing better targeting of conservation work
within this site network and enabling BCW to chart our progress towards conserving this species in Wales.
Read the full report The Status of the Marsh Fritillary in Wales 2017
---
Text adapted from Butterfly Conservation source
Image © Wildlife Trust South & West Wales