Bee Friendly Conwy
TV nature personality, Iolo Williams, has presented Conwy County Borough Council with a certificate to mark the County's achievement of Bee Friendly Status – the first Local Authority in Wales to gain the accreditation.
Pollinators including bees, butterflies, moths and beetles, are in decline and they are essential to pollinate commercial crops, soft fruit, orchards, horticultural crops, and wild and garden flowers.
This led the Welsh Government to launch the Welsh Action Plan for Pollinators, which aims to reverse this decline with a number of measures, including the Bee Friendly initiative.
To gain Bee Friendly status, the Council had to demonstrate how it met the four goals of being Bee Friendly: providing pollinator-friendly food sources, places for pollinators to live, being committed to avoiding chemicals that harm pollinators, and involving the community in the initiatives.
The Council's approach to management of parks, gardens and other areas includes a range of activities which support the Action Plan for Pollinators. The Council has over 40 biodiversity areas, roadside verges and 21 nature reserves which are managed to encourage pollinators. It has taken action like replacing seasonal bedding plants with herbaceous, perennial plant schemes which provide a food source for pollinators. And the Council works with communities holding events like those to build bee habitats and with schools with initiatives like hosting visits to the Great Orme to learn about habitats.
Cllr Dave Cowans, Cabinet Member for the Highways, Environment & Sustainability Portfolio, said, "We take our responsibilities for biodiversity very seriously and the need to address the decline in our pollinators is something that concerns everyone. We're really proud to be the first Council to achieve this in recognition of the work that we carry out."
Lesley Griffiths, AM, Cabinet Secretary for Environment and Rural Affairs, said, "It's great news that Conwy County Borough Council is the first Local Authority in Wales to gain Bee Friendly status. This is the first national scheme of its kind in the UK and I hope we will see many more of our Local Authorities becoming Bee Friendly soon."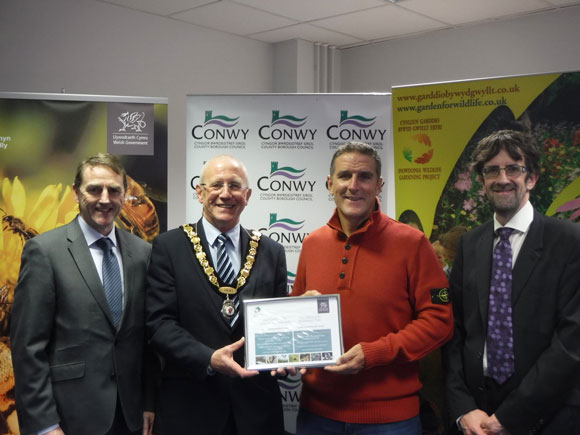 Photo: (Left-Right) Iwan Davies (Chief Executive, Conwy County Borough Council), Cllr Brian Cossey (Chair, Conwy County Borough Council), Iolo Williams, Simon Bilsborough (Welsh Government, Land, Nature and Forestry Division)

Text and image sourced from Conwy County Borough Council